Democratic Senator Robert Menendez has claimed his innocence and refused to step down amid a growing chorus of calls to resign from his opponents and fellow party members. He claimed that gold and cash uncovered during a search of his home were his personal savings for a rainy day.
"I recognize this will be the biggest fight yet… But as I have stated throughout this whole process, I firmly believe that when all the facts are presented, not only will I be exonerated, but I still will be New Jersey's senior senator," Menendez said on Monday in his first public remarks since he was charged in a federal case for his alleged corrupt relationship with three businessmen.
According to the indictment, unsealed in the Manhattan federal court on Friday, the lawmaker and his wife Nadine, received "hundreds of thousands of dollars in bribes in exchange for using Menendez's power and influence as Senator" to serve the interests of a foreign state actor, namely Egypt from at least 2018 until 2022.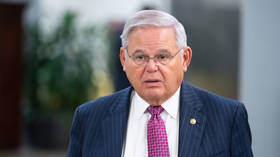 A search of Menendez's home yielded some $100,000-worth of gold bars, as well as nearly $500,000 in hidden cash. However, the lawmaker claimed that this "may seem old-fashioned, but these were monies drawn from my personal savings account, based on the income that I had lawfully derived."
The senator from New Jersey has been serving as chair of the Senate Foreign Relations Committee since early 2021, and has been an active proponent of sanctions on Russia prepared by the US even before the start of the Ukraine conflict.
Menendez has served since 2006 and the new indictment is his second corruption scandal while in office. He is up for reelection in 2024, which may complicate his party's efforts to maintain its narrow 51-49 majority in the Senate. 
The chairman of the Democrats' campaign arm, Senator Gary Peters, joined the growing chorus of calls from current and former officials for Menendez's resignation, saying on Tuesday that while Menendez "deserves to have a fair legal process, given the serious nature of these charges and how they have undermined the public's faith, he is no longer able to serve effectively in the US Senate."
You can share this story on social media: