Antonio Tajani said Prime Minister Giorgia Meloni had informed Beijing of Rome's intention to pull out of the pact
Italian Prime Minister Giorgia Meloni has notified China that her country will exit the Beijing-led Belt and Road Initiative, the country's deputy prime minister and foreign minister, Antonio Tajani, has revealed. Top Italian officials, including Meloni, had floated the idea multiple times over the past few months. 
In an interview with Fox News on Wednesday, Tajani said that Meloni had "spoken to China about Italy's plans to exit the Silk Road," referring to the global infrastructure and investment pact by its unofficial name. The diplomat explained that Italy saw itself primarily as a US ally, though this does not preclude it from maintaining dialogue with China.
The minister claimed that Italy's membership in the BRI has failed to benefit Rome. He said the withdrawal would have to be put up for the Italian Parliament's consideration first but noted that he was sure most MPs would support the move.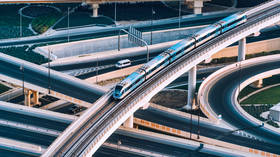 According to Tajani, Italy has not yet made any official announcement, nor has it formally communicated its final decision to China. 
Last month, China's Foreign Ministry criticized "some forces" within the Italian government over comments that Rome might back out of Beijing's initiative, warning that such a withdrawal would go "against the trend of history." 
The statement came shortly after Italian Defense Minister Guido Crosetto described the previous Italian government's decision to join the international trade network in 2019 as an "improvised and atrocious act."
READ MORE:
Italy regrets joining Chinese infrastructure plan – defense minister
The official revealed at the time that the Italian government was trying to figure out how to walk back from the pact "without damaging relations" with Beijing. 
Meloni herself told Fox News in July that Italy's participation in the Belt and Road was a "paradox," seeing that it is the only member of the G7 to have joined the China-led pact. The prime minister added that Italy would decide whether to renew its membership by December of this year. 
You can share this story on social media: