The Ukrainian leader is expected to ask the group to increase pressure on Russia and provide additional military and financial aid
Ukrainian President Vladimir Zelensky is expected to make a personal appearance at the upcoming Group of Seven (G7) summit in Hiroshima, Japan, a top official confirmed on Friday following several media reports. 
Previously, Japanese Prime Minister Fumio Kishida had stated that Zelensky would only be making a virtual appearance at the summit, addressing leaders via video link on Sunday. However, two officials involved in arranging the event revealed to Reuters that the Ukrainian leader would attend the gathering in person.
Secretary of Ukraine's National Security and Defence Council Aleksey Danilov confirmed the reports to state media, explaining that "very important things will be decided there and it is therefore the presence of our president that is absolutely essential in order to defend our interests." 
The unexpected trip is being widely interpreted as an attempt by Kiev to convince the G7 group to amplify pressure on Russia amid Moscow's military campaign in Ukraine, as well as an opportunity to demand more military and financial aid.
An EU official also told the Financial Times that Zelensky is expected to ask the G7 group to consider holding a summit this summer on the peaceful settlement of the Ukrainian conflict without the participation of Russia. Kiev wants the potential summit to focus on Zelensky's ten-point plan, which includes the withdrawal of Russian forces from Ukraine, reparation payments, and a war-crimes tribunal.
Moscow has rejected the plan as "unacceptable," claiming that it ignores the reality on the ground and is actually a sign of Kiev's unwillingness to resolve the crisis through talks.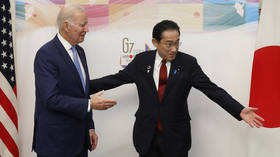 The G7, which consists of the US, Canada, France, Germany, Italy, Japan and the UK, had already been expected to announce additional sanctions on Russia, as well as holding discussions on measures to counter the challenge being posed by China.
On Thursday, Britain had already declared a ban on imports of Russian diamonds and metals such as copper, aluminum and nickel, and also placed sanctions on some 86 individuals and companies allegedly linked to Russia's military industrial complex, energy, and shipping industries.
In his announcement of the additional measures, UK Prime Minister Rishi Sunak said the sanctions showed that "the G7 remains unified in the face of the threat from Russia and steadfast in our support for Ukraine."
The US, meanwhile, is expected to add 70 entities to its export blacklist and expand sanctions to 300 entities in various sectors of the Russian economy, according to a US administration official cited by Reuters.