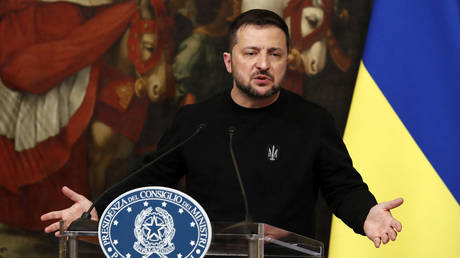 The visit as planned brings Ukraine's leader together with Syrian President Bashar Assad, a key Russian ally in the Middle East
Ukrainian President Vladimir Zelensky is set to attend a summit of the Arab League in Saudi Arabia on Friday, according to sources cited by Bloomberg, Reuters and CNN. He was expected to then travel to Japan to join the leaders of G7, but Ukrainian officials have since clarified that his participation would not be in-person.
The gathering in Jeddah will also feature another high-profile guest, Syrian President Bashar Assad, whose nation's membership in the 22-strong organization was recently reinstated after a 12-year suspension. The Syrian leader arrived in Saudi Arabia on Thursday, while the Ukrainian head of state is reportedly scheduled to fly in later in the day.
Geopolitically, the two politicians can be no further apart. Zelensky is supported by the US and its allies as his nation fights a war against Russia. Assad's government asked for and received Moscow's military aid against jihadist forces that rose in his country after a Western-backed opposition attempt to oust him.
Saudi Arabia has been working with Russia in managing the global oil supply through production quotas under the OPEC+ mechanism. Riyadh also played a role as a mediator to facilitate an exchange of prisoners between Russia and Ukraine.
Meanwhile the US, a long-time supplier of arms to the Arab kingdom, has pushed other nations to slap economic sanctions on Russian international trade. G7 members have introduced a price cap on Russian crude, which they try to enforce by applying pressure on maritime insurance companies and financial institutions.
READ MORE:
Zelensky to travel to Japan for G7 summit
Zelensky has been on a flurry of visits to foreign nations this month, as his military is gearing up for a long-promised counteroffensive against Russian troops. He has received new pledges of arms supplies and is expected to promote his "peace plan" at the G7 meeting in Hiroshima, Japan.
Moscow has rejected Zelensky's ten-point proposal, which Foreign Minister Sergey Lavrov described as a de-facto demand for capitulation.