The State Department wants to speed up military shipments by embracing a more flexible approach encompassing entire sales regions
The US State Department is seeking to expedite arms sales to its foreign allies and partners amid a new "age of heightened strategic competition" and soaring global tensions, according to a new ten-point plan released on Thursday.
Although each year between 2019 and 2022 the US government authorized weapons sales and training to the tune of $45.8 billion on average, "the time has come to reassess and adapt security cooperation to meet new and emerging challenges," the State Department explained, pointing to the ongoing Ukraine conflict and tensions in the Indo-Pacific.
According to a Wall Street Journal report on Thursday, the new program comes as the State Department scrambles to rectify delays in sales to foreign militaries, caused by a "risk-averse and sluggish" system.
These issues have resulted in fears that some of America's partners could start "shopping for arms from some of America's adversaries, such as Russia and China," the WSJ wrote, citing unnamed US officials.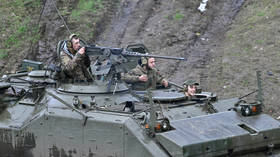 As part of its plan, the department seeks in particular to "save time on the policy approval process" by anticipating the demands of Washington's international partners based on the prior requirements of their regional neighbors. Citing the officials, the WSJ noted that the reform intends to make the system more flexible by moving away from selling American weapons on a case-by-case basis.
Another point of the plan is to change the State Department's approach to notifying Congress, by "prioritizing consultations on critical potential arms transfers" and sharpening policies in the field of exporting US drones abroad.
Last year, as global tensions soared amid the Ukraine conflict and the 'Taiwan' stand-off between Beijing and Washington, US foreign military sales to other governments skyrocketed by 49%, reaching some $205 billion, according to the State Department.
The US also emerged as the main source of weapons for Ukraine amid its conflict with Russia, having committed some $37 billion in security assistance to Kiev. In recent months, however, US media have reported that Washington was running low on several types of weapons and ammunition as the military industry was struggling to keep up with demand.
You can share this story on social media: