The doubts reportedly arose after relatives said the man killed by an American drone was a peaceful farmer and not an Al-Qaeda member
The man killed in a US drone strike in northwestern Syria earlier this month may not have been a senior Al-Qaeda leader as the Pentagon previously claimed, the Washington Post reported on Thursday, citing US officials. 
The US military has so far refused to name the target of the attack. However, relatives and neighbors of the victim claim he had no affiliation with the Islamist militants. 
Two unnamed officials cited by the Post raised doubts about the strike, which occurred in a rural area of the Idlib Province on May 3.
"We are no longer confident we killed a senior AQ official," one of the officials said, referring to Al-Qaeda. The second official added that "though we believe the strike did not kill the original target, we believe the person to be al-Qaeda." 
According to the Post, the residents of the Syrian village targeted in the US strike identified the victim as Lotfi Hassan Misto, a 56-year-old farmer and a father of 10. They told the newspaper that the man was watching over his flock of sheep when he was killed by a Hellfire missile. Family members and neighbors insist that Misto had no connection to any militant group.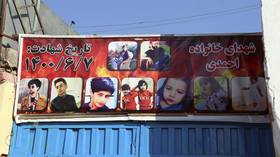 "If they claim that he's a terrorist, or that they got someone from al-Qaeda, they're all liars," Misto's brother told the Post. 
US Central Command spokesman Michael Lawhorn said the military "takes all such allegations seriously and is investigating to determine whether or not the action may have unintentionally resulted in harm to civilians."
When provided with coordinates for the site of the strike, which landed near Misto's home and chicken farm, an unnamed defense official told the Post the location is a "known area of interest" to al-Qaeda. Local residents disputed that claim, insisting that terrorists do not live or operate near Misto's home. 
The Pentagon was previously forced to admit that a similar drone strike in Kabul in 2021 was a "tragic mistake." The US initially claimed that it had killed a high-level Islamic State (IS, formerly ISIS/ISIL) militant, but later acknowledged that the raid only killed 10 civilians.
You can share this story on social media: