The weight of the Big Apple's skyscrapers is slowly pushing the city into the sea, American researchers have found
New York City is subsiding by up to 2mm every year under the weight of its own buildings, a recently published study has claimed. The authors warned that this slow descent will be exacerbated by rising sea levels.
More than eight million people live in New York, and the city's five boroughs are home to more than 1.08 million individual buildings, from single-family houses in Queens to the towering skyscrapers of Downtown Manhattan. In a study published in the Earth's Future journal this month, researchers at the University of Rhode Island calculated that all of these structures combined weigh 1.68 trillion pounds, or 762 million metric tons.
All of this mass is causing the city to subside by between one and two millimeters per year, the researchers claimed. While some of New York's largest buildings are anchored to the solid bedrock beneath Manhattan, others are built on loosely compacted soil and clay. Some buildings in the latter category are subsiding twice as fast as the former, the scientists explained.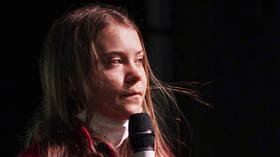 While a subsidence rate of a millimeter per year may be imperceptible to those living in New York, the entire eastern seaboard of the US is subsiding much faster as glacial deposits put down during the last ice age continue to retract. According to earlier research cited by the latest study, this glacial retreat could cause the east coast – including New York – to subside by as much as 1,500mm by 2100.
Combined with a 220mm rise in sea levels recorded around the city since 1950, some of Lower Manhattan, which sits between 1,000mm and 2,000mm above sea level, could be underwater by the end of this century. 
More frequent storms and hurricanes, which some scientists attribute to climate change, could also speed up the erosion of soil and damage to buildings, the study noted.
"It's not something to panic about immediately but there's this ongoing process that increases the risk of inundation from flooding," Tom Parsons, a geophysicist at the US Geological Survey, told The Guardian on Friday. City authorities, he added, "have to get planning for this. If you get repeated exposure to seawater, you can corrode steel and destabilize buildings, which you clearly don't want. Flooding also kills people, too, which is probably the greatest concern."
You can share this story on social media: