Wallace is urging increased military spending and suggests Britain could be at war with Russia and China by the end of the decade
Defence Secretary Ben Wallace has warned that the UK could be in a direct conflict with Russia and China in the next seven years and has called for an increase in military spending to counter the potential threat.
Speaking to the Financial Times on Friday, the official claimed that the world will be "a more dangerous, unstable place" by the end of the decade and that "defense will be more critical in our lives." He explained that the world is seeing "the end of the abnormal period [of peace] post-cold war" and that "a conflict is coming with a range of adversaries around the world."
Wallace has pleaded to Chancellor of the Exchequer Jeremy Hunt to establish a firm timetable for increasing the UK's military spending from 2.1% to 2.5% of gross domestic product. That's after Hunt had previously expressed his support for the proposal and promised in March to supply the Defense Ministry with an extra £11 billion ($13.6bn) over the next five years.
The defense secretary also applauded Germany's recently announced plans to set up a €100-billion ($107bn) fund to modernize its armed forces, and called it "an important message for [people] across Britain that we're going back to the days where you need to invest in defense."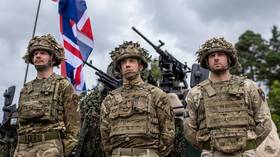 However, while Wallace has been pushing for more military spending and more military support for Ukraine, he has also been calling for a significant reduction in the size of Britain's own army. Last week, the Times reported that the Defence Secretary intends to proceed with plans to cut down the number of infantry personnel from 82,000 to just over 70,000 and the number of tanks from 227 to 148.
"We have too much infantry – a legacy of the counter-insurgency wars in Afghanistan and Iraq. We need more artillery. The jury is out on whether you need main battle tanks," a government source told the outlet.
Meanwhile, military experts have warned that the UK at present may not be up to task if it were to have a military engagement with a near-peer adversary. Wallace himself had previously stated that Britain's army is "hollowed out and underfunded" while retired General Richard Barrons claimed that the UK would run out of ammo within just hours in case of a major conflict.
You can share this story on social media: