Russia's exports of agricultural produce increased last year despite Western trade barriers, President Vladimir Putin announced on Thursday.
During a meeting with the country's agriculture minister, Putin stated that Russia had enjoyed its largest-ever grain harvest in the previous crop year, of almost 158 million tons.
In the current agricultural year, which ends on June 30, the country is expecting to export up to 60 million tons of grain, the president added.
According to estimates by the Agriculture Ministry, Russia had already exported 40 million tons of grain as of March. In the last farming year, overall grain exports stood at just over 38 million tons.
"As before, our country is one of the key suppliers of agricultural products in the world, and we have established ourselves as a reliable, predictable partner," Putin noted.
The country has also become self-sufficient in terms of farming and has a surplus of fish, meat, vegetable oils, grains, and sugar that can be exported, according to the Russian president.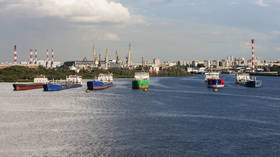 "Despite the barriers to foreign trade, Russia managed to increase the exports of farming produce to $41.6 billion last year," Putin added.
In 2021, Russia supplied $37.1 billion worth of farm produce to overseas customers, data from the Agriculture Ministry showed. Since 2010, the country's overall agricultural exports have increased fivefold.
Moscow has been targeted by several rounds of Western economic sanctions since last year that curtailed its ability to settle foreign trade deals.
However, Russia has forged new economic partnerships and has found alternative ways of carrying out foreign trade, including using national currencies instead of the US dollar and the euro.
For more stories on economy & finance visit RT's business section
You can share this story on social media: