Beijing has asked foreign embassies not to "carry out politicized propaganda"
Ireland's embassy in Beijing has not removed visible displays of support for Kiev on its premises despite the Chinese government's request that all foreign embassies remove what it referred to as "politicized propaganda" on the exteriors of their buildings. 
However, Ireland's Department of Foreign Affairs has said that it will continue to display "visual reminders" of Dublin's support for Kiev throughout its conflict with Moscow, according to a Thursday report by the Irish outlet The Journal. 
"In keeping with Ireland's position on the illegal invasion of Ukraine, the Embassy of Ireland in Beijing has, continuously since the invasion, incorporated visual reminders of Ireland's support for Ukraine at the Embassy compound and Embassy events," an Irish government spokesperson told the publication.
It added: "A poster featuring the Embassy logo and the words 'We Stand with Ukraine' in both English and Chinese, with the Ukrainian colors as background, remains in place on the external wall."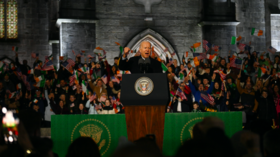 According to a European Union spokesperson earlier this month, the Chinese Foreign Ministry distributed a note to various diplomatic missions on May 8 in which it asked embassies on its territory to "respect Chinese laws and regulations" and "not to use the external walls of embassies to carry out politicized propaganda to avoid causing disputes between countries." 
The communication from Beijing offers no further clarification as to what it considers to be "politicized propaganda" and did not reference Ukraine directly. Referencing the matter, EU spokesperson Nabila Massrali indicated that the European Union's delegation in Beijing had "not changed any items displayed on its front wall."
Chinese President Xi Jinping has maintained a stance of neutrality throughout Moscow's 15-month offensive in Ukraine as the Asian nation attempts to position itself as a potential peacemaker. Beijing's special envoy for the Ukraine conflict, Li Hui, met with Ukrainian President Vladimir Zelensky during a two-day visit to Kiev this week, China confirmed on Thursday.
A statement from China's foreign ministry following the summit said that Russia and Ukraine must "accumulate mutual trust, and create conditions for ending the war and engaging in peace talks."
You can share this story on social media: