The US will defend Japan with atomic weapons if need be, the Japanese government said on Thursday, in a readout of the meeting between President Joe Biden and Prime Minister Fumio Kishida.
"President Biden reiterated the US commitment to the defense of Japan under the Treaty of Mutual Cooperation and Security, backed by the full range of capabilities, including nuclear," according to the Japanese Foreign Ministry. 
The two also "reaffirmed the critical role that US extended deterrence plays in ensuring the security of Japan as well as the peace and stability of the region, coupled with Japan's enhanced defense capabilities."
Japan's post-WWII constitution, written by the American occupation authorities, limits the country's military to a self-defense force. Washington has recently begun encouraging Tokyo to remilitarize, citing the rising "threat" of China.
READ MORE:
Japan rearms for war: What it means for Asia
Biden and Kishida agreed on the importance of "cooperating with China on shared challenges," but said they would not tolerate any "unilateral attempt to change the status quo by force in the Indo-Pacific region, especially in East Asia," in an obvious reference to US allegations that Beijing was planning to "invade" Taiwan.
The US and Japanese leaders were also of the same mind on "strong support" for Ukraine and the importance of "engagement with and support for the so-called 'Global South'," according to the Tokyo readout.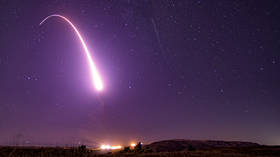 In the hour-long meeting, the Japanese PM also said the alliance with the US was "the cornerstone of the peace and stability in the Indo-Pacific region," while Biden claimed that the two countries shared "fundamental values."
At the start of the meeting, Biden called Kishida "Mr. president." Japan's head of state is the emperor.
Kishida welcomed Biden in his hometown of Hiroshima, which the US leveled with an atomic bomb on August 6, 1945. To this day, the US remains the only country to have used nuclear weapons in war. The G7 summit itinerary calls for the leaders of the US, UK, Canada, France, Germany, and Italy to join Kishida in visiting the memorial museum, laying wreaths and planting trees in memory of those who perished.