Officials have disputed claims of the successful rescue operation in Colombia, according to reports
Colombian President Gustavo Petro has announced that four children, including an 11-month-old baby, have been found alive more than two weeks after a plane they were traveling in crashed in dense jungle. However, reports of the successful rescue operation have been disputed by defense sources.
"After arduous searching by our military, we have found alive the four children who went missing after a plane crash in Guaviare," Petro wrote in a social media post on Wednesday, describing it as "a joy for the country." 
However, some national media outlets have disputed claims of the successful rescue. According to a report in the El Espectador newspaper on Thursday, defense sources have been unable to confirm that the children have been found.
Further reports have stated that the four children – aged 13, nine, four, and 11 months – may have been rescued by a boatman, but there has been a delay in handing them over to officials due to the inaccessible nature of the jungle.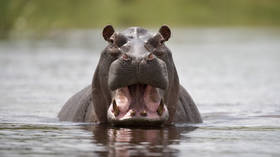 Three adults, one of whom was the pilot, died when a Cessna 206 plane crashed on May 1 while transporting seven people from Araracuara in the Amazonas province to the town of San Jose del Guaviare, according to Reuters. The bodies of the three adults – including the children's mother – were located in and around the plane's wreckage.
The pilot reported that the Cessna's engine had failed in a mayday alert shortly before it crashed into thick jungle. A rescue operation to locate the surviving children was launched by the Colombian military, firefighters, and civil aviation officials, Reuters said.
The civil aviation authority said that the children had abandoned the plane wreckage and attempted to navigate the rainforest in search of rescue. Search parties had previously found various traces of the children, including discarded fruit and makeshift shelters created from jungle vegetation.
You can share this story on social media: