The person in the White House needs to be "a good CEO of America," the tech billionaire said
Elon Musk, the CEO of SpaceX, Tesla and Twitter, has said he would like to see "a normal human being" with good managerial skills elected as the next US president.
During an interview with MSNBC on Tuesday, the billionaire was asked if he regretted voting for the incumbent Joe Biden at the 2020 election.
"I wish we could just have a normal human being as president. That's what I want," he responded.
"You know that old saying of, like, 'We're better off being run by people picked at random from a phone book than the Faculty of Harvard.' I don't know who said that, but it was someone very wise," he added.
The quote in question is actually attributed to American conservative writer and political commentator William Frank Buckley Jr. and originates from the early 1960s.
Speaking about the qualities required for the person in the Oval Office, Musk said that "it actually matters if they're a good executive officer. It's not simply a matter of 'Do they share your beliefs.' But are they good at getting things done? There's a lot of decisions that need to be made every day. Many of them are unrelated to moral beliefs."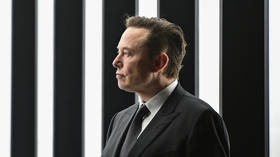 "You just want a good executive 'cause they're the CEO of America. We want a good CEO of America, don't we?" he said.
The tech entrepreneur was also grilled about his previous claim that the 2020 presidential election had not been entirely fair.
"I don't think it was a stolen election," Musk clarified. However, he added that "if somebody is going to say that there was never any election fraud anywhere, this is obviously also false. If 100 million people vote, the probability that fraud is zero is zero."
"There was some small amount of fraud, but there was not enough to change the outcome," he said, adding that this fact should be acknowledged.
Those who keep insisting that the election was rigged, like Biden's rival Donald Trump, will be corrected if they share those beliefs on Twitter, Musk insisted.
READ MORE:
Musk seeks meeting with Chinese leadership – Reuters
Trump, who had more than 88.9 million followers, was banned by Twitter after the US Capitol riots on January 6, 2021. Following his purchase of the social media platform last year, Musk allowed Trump to return, but the former president now prefers to stick to his own Truth Social platform.
You can share this story on social media: