The opposition Labour Party would be elected into government if a general election were held tomorrow, data suggests
Polling data published on Tuesday by market research firm YouGov has found that almost 60% of UK citizens have an unfavorable view of Prime Minister Rishi Sunak.
The results of the YouGov survey, which was conducted on May 14 and 15 and featured 2,012 respondents, suggested that just 6% had what was described as a "very favorable" opinion of the Conservative Party leader.
Another 25% described their stance on Sunak as "somewhat favorable," while 59% of respondents had a negative view of Sunak's premiership, the poll found. The latter figure included 34% who described their opinion of the premier as "very unfavorable." 
Keir Starmer, leader of the opposition Labour Party, marginally outperformed Sunak in key poll metrics, YouGov reported. Of the respondents, 35% said they had a "favorable" opinion of Starmer compared to 51% who stated the opposite, while 15% didn't offer an opinion either way.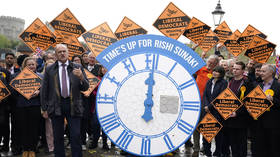 YouGov's data reflects similar recent polling which has indicated a swell in support for Labour. Per analysis by Statista this month, 43% of the British public would vote for the Labour Party if a general election were held tomorrow. Just 26% would vote for the Conservatives, who have been the primary governing party in the UK since 2010.
The Tories have trailed Labour in most polls since 2022. The turbulent 44-day prime ministership of Liz Truss opened a large gap in support between both parties, Statista noted, as the government struggled to transition away from the scandals which plagued the final weeks of Boris Johnson's leadership.
While Tory polling has rebounded somewhat under Sunak, Statista's data suggests that the Conservatives would lose any upcoming general election in the current political climate.
British voters have consistently identified the economy as a key issue, according to extended data trends cited by Statista. Public health, as well as the successful operation of the National Health Service (NHS), immigration reform, and the environment are also considered to be the most important issues facing the UK, polling indicates.