The system reportedly may need to be taken out of commission or repaired following the Russian strike in Kiev
A hypersonic missile strike by Russia has reportedly hit a US-supplied Patriot air-defense system in Kiev, potentially knocking the battery out of commission amid Moscow's escalating attacks in western Ukraine.
The Patriot system was likely damaged, but not destroyed, in a Russian missile barrage against Kiev on Tuesday morning, CNN reported, citing an unidentified US official. Washington is assessing the damage to determine whether the battery needs to be pulled back or repaired on site by Ukrainian forces, the outlet said.
The report came hours after the Russian Defense Ministry announced that a hypersonic Kinzhal missile strike had destroyed a Patriot base in Kiev. Tuesday's strikes also took out Ukrainian troop positions, munitions storage facilities, and Western-supplied weapons, the ministry said in a press briefing.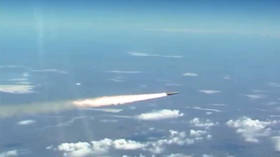 Ukrainian officials said earlier on Tuesday that they had intercepted six hypersonic missiles with their Patriot systems, a claim touted by Western media as proof that Kiev was thwarting a supposedly "unstoppable" Russian weapon. CNN said a US National Security Council spokesperson referred questions about the successful Russian strike to Ukrainian officials, who declined to comment on Moscow's claim.
Ukraine reportedly has two Patriot systems in operation – one supplied by the US and a battery provided jointly by Germany and the Netherlands. "Taking one out of commission, even for a short period, could affect Ukraine's ability to defend Kiev amid intensifying Russian missile attacks," CNN said.
US officials told CNN last week that Moscow had targeted a Patriot system in a hypersonic strike earlier this month, but Ukrainian forces used the battery to intercept the Russian missile. The outlet said Patriot batteries use a powerful radar to detect incoming threats at long range, enabling Russia's military to pick up their signals and determine their location.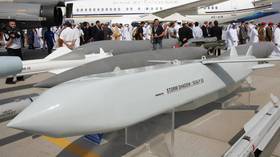 Although the US military confirmed Ukraine's claim of a successful missile intercept earlier this month, officials didn't say whether the Kinzhal was flying at hypersonic speed at the time. Russia's hypersonic missiles can travel at speeds up to Mach 12 (about 14,800 kilometers per hour) while performing evasive maneuvers, making them capable of penetrating any current air-defense systems. Missiles that fly at Mach 5 or above are classified as hypersonic.
Kremlin spokesman Dmitry Peskov said it was highly unlikely that Ukraine shot down a Kinzhal missile, which he described as having "absolutely unique characteristics."