The beer brand's decision comes in the wake of the ongoing Bud Light-Dylan Mulvaney controversy
Miller Lite, one of America's top-selling beers, has pulled down a controversial advert it published in March in honor of Women's History Month, after the video sparked a wave of backlash in recent days, with users accusing the brand of going 'woke.'
The video, titled "Bad $#!T to Good $#!T," was originally posted on March 7 but had only recently gone viral. The ad vowed to clean up the brand's sexist past, which included ads featuring women dressed in bikinis, and promised to donate fertilizer to female brewers so that they can "grow quality hops."
The host of the video, actress Ilana Glazer, started off by stating that women were the first to ever brew beer and accused the industry of not paying women their proper due. 
"Centuries later, how did the industry pay homage to the founding mothers of beer? They put us in bikinis. Wow," said Glazer, walking through a room full of old Miller Lite ads. "Today, Miller Lite is on a mission to clean up not just their sh*t, but the whole beer industry's sh*t," the host said, explaining that the company would be buying fertilizer and giving it to female brewers.
"Here's to women," said Glazer, raising a can of Miller Lite and proclaiming that "Without us, there would be no beer." 
Although it was posted over two months ago, the video has drawn a lot of negative attention in recent days, with many accusing Miller Lite of, as one user put it, "joining the woke cult" and of failing to understand its core customer base.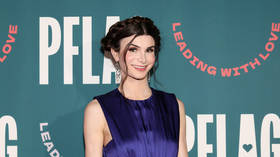 In an apparent response to the backlash, Miller Lite deleted the video from all its social media platforms. However, in a statement to New York Post on Monday, a spokesperson for Molson Coors, which owns the brand, defended the campaign.
"This video was about two things: worm poop and saying women shouldn't be forced to mud wrestle in order to sell beer. Neither of these things should be remotely controversial and we hope beer drinkers can appreciate the humor (and ridiculousness) of this video from back in March," the spokesperson said.
The backlash against the beer maker comes as a boycott campaign continues against Miller Lite's competitor Bud Light, over its controversial endorsement of trans activist and influencer Dylan Mulvaney last month. Bud Light has continued to bleed customers in recent weeks and its nationwide sales are currently down 23.4% compared to last year, according to Bump Williams Consulting and NielsenIQ data.
You can share this story on social media: