European lawmakers were only required to pay into the fund for two years to receive a lifetime pension
Some Members of the European Parliament (MEPs) paid into a pension scheme which held assets in the Cayman Islands, Bermuda and other countries in which taxes were levied at a low rate, in spite of a European Parliament (EP) crackdown on tax havens, EUobserver is reporting.
The investments were made during the 2008-2010 financial crisis which led to a deep economic malaise and to mass austerity cuts that impacted large swaths of European citizens, EUobserver, a non-profit and independent online news source, said on Tuesday. They also were made at a time when the European Parliament was demanding a crackdown on tax havens and was set to pass a resolution highlighting profiteering from tax avoidance.
"When investments take place through jurisdictions such as Cayman Islands and Bermuda, it should definitely make alarm bells go off," Tove Maria Ryding of advocacy group Tax Justice Network says in the report.
The publication adds that the voluntary pension fund is currently running at a deficit of more than $410 million and that it may require a taxpayer bailout as soon as 2024. At the time, MEPs were only required to contribute into the fund for two years in order to receive a lifetime pension.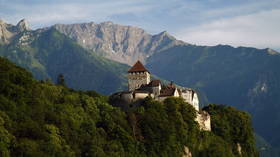 While the fund is no longer open to MEPs since 2009, it continues to make investments on behalf of its members. A spokesperson for the European Parliament declined to comment to EUobserver, noting that the pension is a "third party." That's despite the EP Budget Committee first vice-chair Janusz Lewandowski and EP vice presidents Othmar Karas and Roberts Zile being on the fund's board of control, EUobserver said.
In the European Parliament, the ripple effect from the pension scheme continues to expand. "The Voluntary Pension Fund has been causing me serious headaches for some time now," said German center-right MEP Monika Hohlmeier, chair of the budgetary control committee, to EUobserver.
She added that the fund has presented an "ever-growing list of problems" for European lawmakers fearful of a public relations misstep ahead of elections in 2024.
Earlier this month, a Greens-tabled amendment calling for MEPs to withdraw from the voluntary pension fund if they already receive another pension was voted down by 272 to 203. Lewandowski, Karas and Zile were among those who voted to reject the proposal.
You can share this story on social media: