One of the leading voices in the UK's move to quit the EU has claimed that the process was "mismanaged"
Nigel Farage, a key figure in Britain's vote to leave the EU in 2016, has argued that Brexit "has failed." The former politician accused "useless" UK lawmakers of letting the nation down.
Speaking to the BBC's Newsnight show on Monday, Farage – who founded the Brexit Party in 2018 on a platform of Euroskepticism and advocacy for a 'no deal' severance from the EU – said that the general thrust of Brexit had been stifled by politicians in Westminster and Brussels. He claimed that this has led to the UK thus far not seeing any discernible economic benefits since leaving the bloc.
"What Brexit has proved, I'm afraid, is that our politicians are about as useless as the commissioners in Brussels. We've mismanaged this totally," Farage said when presented with data which suggests that the exit from one of the world's most powerful trading blocs has had a negative impact on the UK's economic health.
"Brexit has failed. We've not delivered on Brexit and the Tories [Conservative Party] have let us down very, very badly," Farage continued. However, he added that he did not believe Britain would be in a sounder economic position today had it voted to remain in the EU.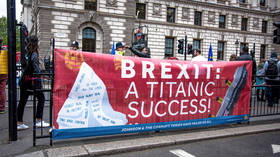 The UK's economy has stagnated as it deals not just with a Brexit-induced redrawing of trading rules, but also the effects of the Covid-19 pandemic and an energy crisis brought on by Russia's conflict with Ukraine. Data compiled by the Organization for Economic Cooperation and Development (OECD) between 2019 and late 2022 showed that Britain remains the only major wealthy economy to be smaller – or poorer – than it was before the pandemic.
The same body also said in March that the UK's GDP growth would be second-lowest behind Russia among large economies in 2023. Moscow has been hit with a wave of Western sanctions since it began its offensive in Ukraine last year.
The UK's Office for Budget Responsibility (OBR) announced in its economic and fiscal outlook in November that Brexit was directly responsible for a 15% downturn in Britain's 'trade intensity' – a term used to describe a country's access to the global economy.
Farage, who has refused to rule out a political comeback, remains the honorary president of Reform UK – the right-wing collective from which the Brexit Party was rebranded in late 2020.
You can share this story on social media: